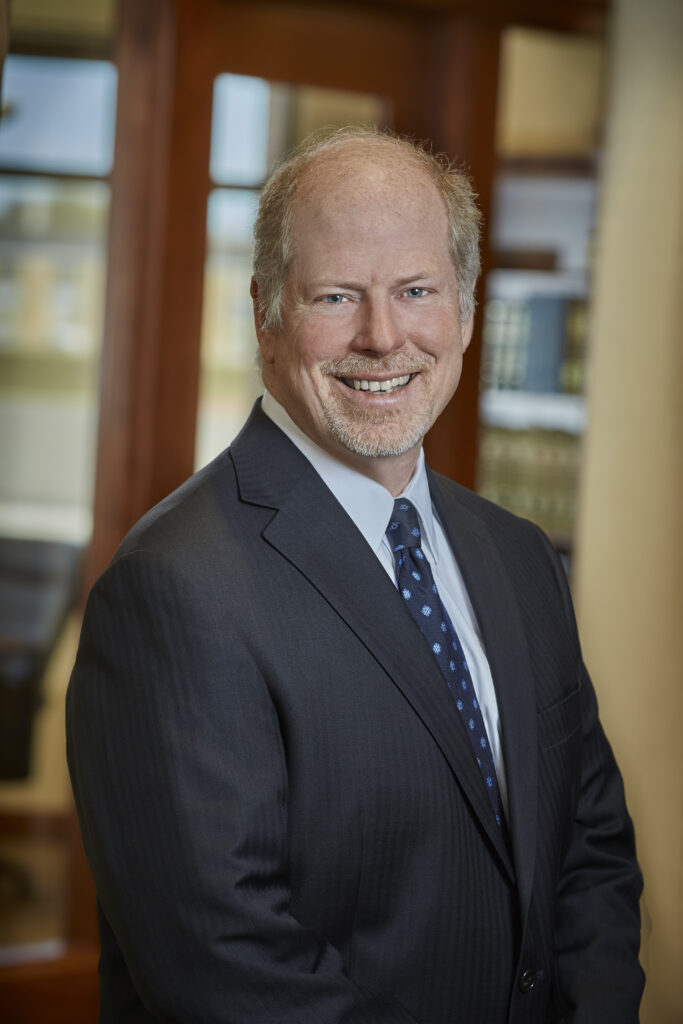 Matthew E. Yde, Esq. is the sole equity partner and serves as the managing partner of Yde Law Firm, S.C. Mr. Yde was also a founding partner of Strasser & Yde, S.C. in 1997, the former D/B/A prior to the departure of his former partner who was selected for judicial service. Though the name on the door changed in 2016, Mr. Yde's commitment to the client's interests, his proven litigation approach and processes, and his commitment to the welfare of his community remain steadfast.
Mr. Yde has been practicing in the Wausau area since 1989. Upon starting his own law firm in 1997, Mr. Yde identified his mission. His firm was to be rooted in excellence, driven by word-of-mouth business. He wanted the result to speak for itself. After more than 33 years of providing services to the people of Wisconsin and beyond, Mr. Yde has measured his success by the satisfaction of his clients. He is driven by the sense of calm enjoyed by his clients when closing out a painful litigation matter causing long-term stress and life uncertainty, the peace of mind his clients appreciate when they are properly advised to avoid future specter of liability, and the appreciation of his clients when they realize the best possible resolution to their problem or anxiety.
Mr. Yde is a general civil litigation attorney, but offers nearly full service for all of his clients' civil needs (exclusive of family law). He also offers mediation services. His track record of successful jury trials, bench trials, arbitrations, discrimination hearings, and Workers' Compensation hearings throughout Wisconsin and Illinois give our clients an edge at trial which increases the likelihood of a favorable settlement or trial verdict.
Areas of Practice (including, but not limited to):
Personal Injury
Workers' Compensation
Employment Disputes
Product Liability
Business Disputes
Real Estate Disputes
Insurance Mediation/Arbitration
Construction Disputes
Contract Disputes
Fair Dealership/Franchise Disputes
Probate Disputes
Mediation
Municipal Law
Education:

Legal: Marquette University
Graduated 1989
Thomas More Scholar
Crowley Scholar
Zilber Scholar
American Jurisprudence Award
Undergraduate: Central College, Pella, Iowa
Graduated 1986
Grace Boat Scholar
Varsity letter winner in football and wrestling
Admitted to Practice:

Wisconsin Supreme Court
U.S. District Court for the Western District of Wisconsin
U.S. District Court for the Eastern District of Wisconsin
U.S. District Court for the Eastern District of Texas
U.S. Court of Appeals for the Seventh Circuit
Menominee Tribal Court
Bar Associations:

American Bar Association (Member: Litigation Section)
State Bar of Wisconsin (Member: Litigation Section)
Marathon County Bar Association
Civil Trial Counsel of Wisconsin (Board Member)
The Association of Trial Lawyers of America
The Defense Research Institute, Inc.
Wisconsin Association for Justice
Regional Director of DRI-Voice of the Defense Bar
Civic Activities:
Boys and Girls Club of the Wausau Area, Inc.
March of Dimes (Volunteer)
Northern Valley Workshop, Inc. (Director 1995-2001)
United Way of Marathon County (Account Executive, 1994-1997)
Wausau Area Youth Football League (Vice President, 1991-1992; Secretary, 1993-2001)
Everest Youth Hockey Director (2001-2004)
Youth baseball, basketball and tackle football coach
Salvation Army bell ringer
Coach for the D.C. Everest High School Mock Trial Team