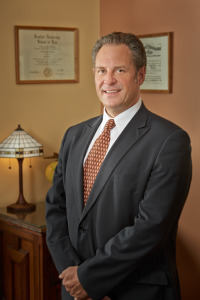 GREG STRASSER began practicing law in 1988. In July of 1997, he and Matthew Yde formed the Law Firm of Strasser & Yde, S.C. He has represented clients in cases at the state and federal level. In addition to his extensive trial experience, he has represented clients at adminsitrative hearings, arbitrations and mediation. His extensive client list includes corporations, banks, municipalities, businesses and individuals from all walks of life.
On The Importance of Legal Experience and Reputation:
"Being a good attorney means having a wealth of legal experience to draw on. There is no substitute for having decades of experience representing many different clients regarding a wide, diverse number of issues and involving many different courts and venues. However, as important as experience is, having the respect of judges and attorneys is just as important. That respect is hard to earn and easy to lose. In the end, to effectively represent clients takes hard work and dedication to being a good attorney and trusted advisor. Simply put, an attorney must be willing to earn a reputation in the community for being a fair but prepared, tough advocate."
On The Importance of Diversity in Advocacy
"When you have experience on both sides of many issues, you know how to take advantage of weak positions and clearly and effectively present yours. I think it is a mistake to retain an attorney who only knows one area of the law or one side of an issue. It has been said that diversity builds strength and that notion holds true in legal advocacy."
On Having Good Clients with Good Cases:
"We will not take cases that are about a grudge or about getting even. We want to represent good people who need help with a legal issue. The merits of a case are crucial. Our ideal client is someone who knows what they want, needs help understanding the risks and benefits of legal action, and is willing to invest the time and energy necessary to be skillfully guided through an imperfect legal system to the result they need. No lawyer has magic pixie dust that they can sprinkle on a case and win it. A client hires an attorney as a professional and understands the value of their professional advice.
On The Importance of Trial Experience:
"You must have trial experience. When you're up against a tough opponent in court, it is apparent in their mind whether you are represented by a firm that has a proven track record or not. It is more likely that your case will be resolved in your favor if you have a firm that provides you with the advantage that comes with extensive legal experience and knowledge."
On Being a Tough Trial Lawyer:
"To me, tough means that you are tried, true, and ready to go. It can't just be an image you adopt without substance behind it. It is about being steady and being prepared to present your case to a jury. Even more importantly, a tough trial lawyer has to have the courage of his or her convictions. If you never lie to the client, jury, or the other side, and you can stand tall, and represent your client in a professional, honest, and ethical manner."
Areas of Practice:
General Trial Practice
Insurance Litigation (commercial and personal lines)
Banking Law
Business and Real Estate Disputes
Mediation/Arbitration (including acting as mediator)
Municipal Law
Representation of clients in Wisconsin in state, federal, and administrative courts
Education:
Legal: Hamline University of Law, St. Paul, Minnesota
Graduated 1988
Jessup International Law Moot Court Team
Moot Court Chairman
Undergraduate: University of Wisconsin, Madison, Wisconsin
Graduated 1985
Distinction in Major (History)
Admitted to Practice:
All Wisconsin State Courts
U.S. District Court for the Western District of Wisconsin
U.S. District Court for the Eastern District of Wisconsin
U.S. Court of Appeals for the Seventh Circuit
Bar Associations:
State Bar of Wisconsin
Marathon County Bar Association

Professional Activities:
Civil Trial Counsel of Wisconsin
State Bar Free Arbitration Panel Member
State of Wisconsin Bar Leaders Committee (past member)
Vice President, Marathon Coutny Bar Association (2005-2006) President, Marathon County Bar Association (2006-2007)
Member of Board of Directors for Abby Bank

Civic Activities:
Polar Plunge Team Captain, benefiting Special Olympics
Coach for the D.C. Everest High School Mock Trial Team
Previously coached a community youth football team
Vice President of the Fromm Brothers Historic Preservation Society